Dragon Media's 2017 China Sports Year in Review (Part 1)
As the year comes to a close, Dragon Media is taking a look back at 2017 in the China sports landscape. We will review analyze leagues that made their Chinese debuts here, groundbreaking new deals and partnerships, new developments in sports technology, e-sports in China, and announcements that may have a direct impact on sports development here in China. We will begin by taking a closer look at some of the foreign sports leagues that held sporting events here for the first time ever in their history, as well as new deals and partnerships that made a major impact on the business side of sports in China this year.
Major Sports Leagues Make Their China Debuts
The National Hockey League, the highest level of professional ice hockey in the world, made its Chinese debut on Thursday, September 21st at the Mercedes-Benz Arena in Shanghai, in the 2017 NHL China Games, as the Los Angeles Kings took on the Vancouver Canucks, winning 5-2. The two teams then played in Beijing on Saturday, September 23rd at a packed Cadillac Arena, with the Kings taking the second game of the tour 4-3 in a shootout.
This year is the NHL's 100-year anniversary. In its first time holding an event in China, the league brought the world's highest level of ice hockey, as well as the ultimate authentic North American sports fan experience. With the 2022 Winter Olympics in Beijing coming in just five years, the success of these games is no doubt a good sign for the sport of ice hockey's future in China.
The Ultimate Fighting Championship (UFC), the world's biggest mixed martial arts (MMA) promotion, made its Mainland China debut on Saturday, November 25th at the Mercedes-Benz Arena in Shanghai. A crowd of 15,128 was on hand to witness the biggest MMA event in China's history so far.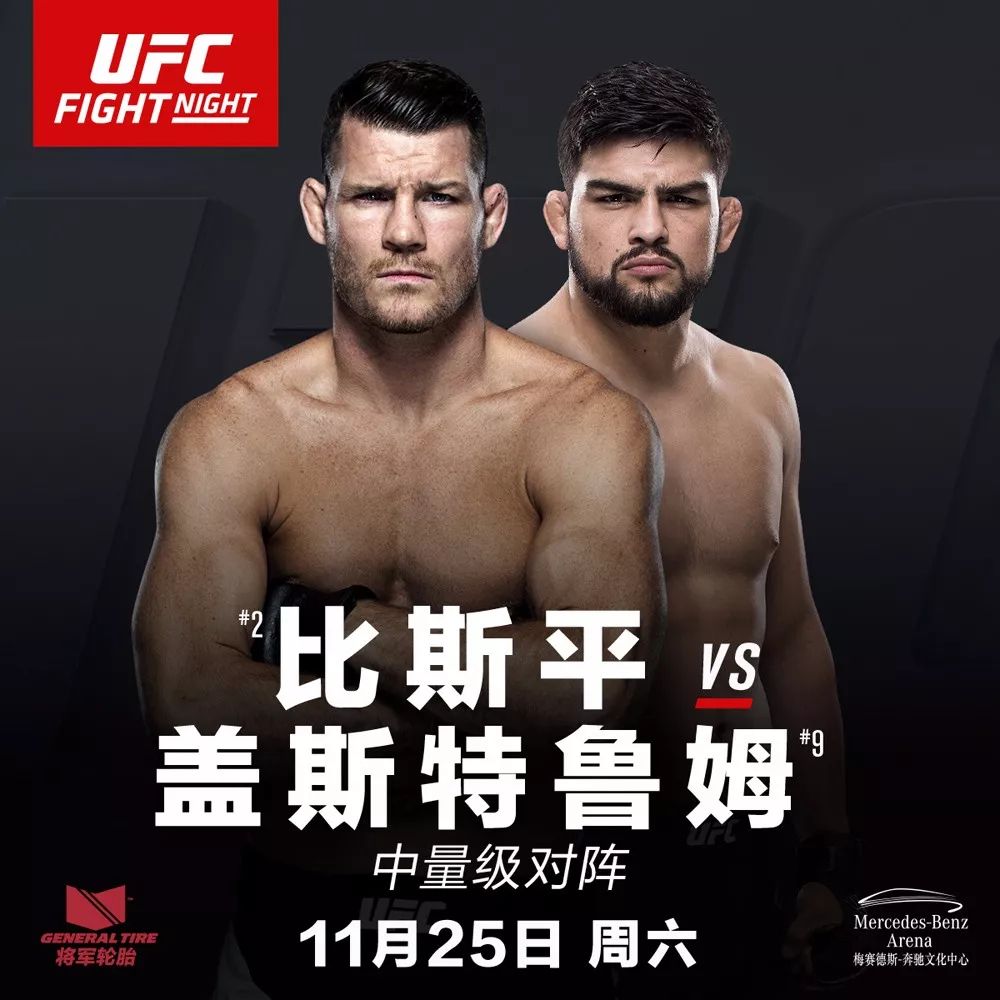 UFC Fight Night: Shanghai was a success in part due to UFC's strong IP, and the positive record of Chinese fighters during the fight (5-3). This has attracted more and more fans to UFC, and has made UFC's debut here one of the more successful first games to be held here by a foreign sports entity. UFC, and MMA in general still have a ways to go before reaching mainstream popularity, but if UFC Fight Night: Shanghai is any indication, the sport's future here is one to watch out for.
On May 14th, the Australian Football League (AFL), the highest level of Australian-rules football, played its first ever game on Chinese soil at Jiangwan Stadium in Shanghai, the first time the league had ever held a regular game for points outside of Australia. The Port Adelaide Power cruised to a 110-38 victory over the Gold Coast Suns in the contest.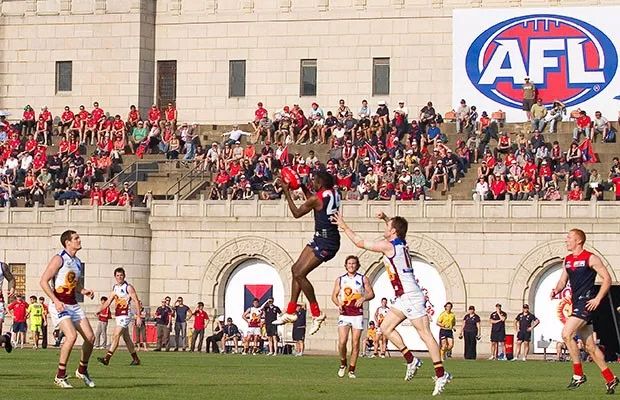 The game represented a new chapter in the relationship between Australia and China. With the AFL now attempting to enter the Chinese market in earnest, a new channel of economic and cultural exchange between the two countries has been opened.
In addition to exciting new sports leagues debuting in China, major partnerships in the business side of sports in China also occurred this year that made a noticeable impact on the sports world as a whole.
Chinese Brands Go International
On January 19th in Davos, Switzerland, the International Olympic Committee (IOC) and the Alibaba Group announced a landmark partnership through 2028. Alibaba will now join The Olympic Partner (TOP) worldwide sponsorship program, and will act as the IOC's official cloud services and e-commerce platform services partner, and serve as a founding partner for the Olympic Channel.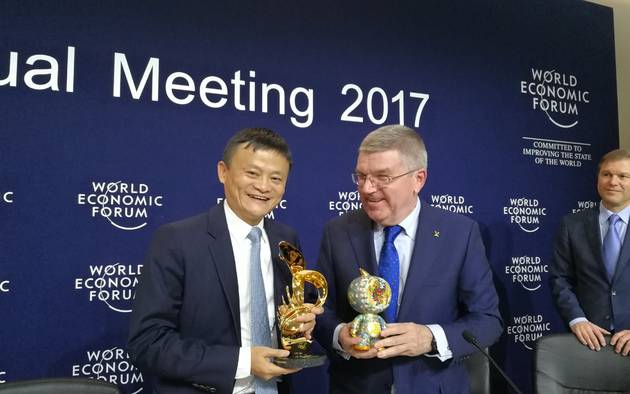 Jack Ma and IOC president Thomas Bach
Alibaba's unique business model has already made history around the world, and this deal with the IOC has created some new records. Alibaba has now become the IOC's youngest partner, signed the longest ever deal with TOP, and become the first ever partner to become the official partner of two different services for the IOC.
On April 6th, Chinese appliances and electronics brand Hisense announced that it was becoming an official sponsor of the 2018 FIFA World Cup. Hisense will receive a high level of international brand exposure, and it will become the official television of the World Cup as well.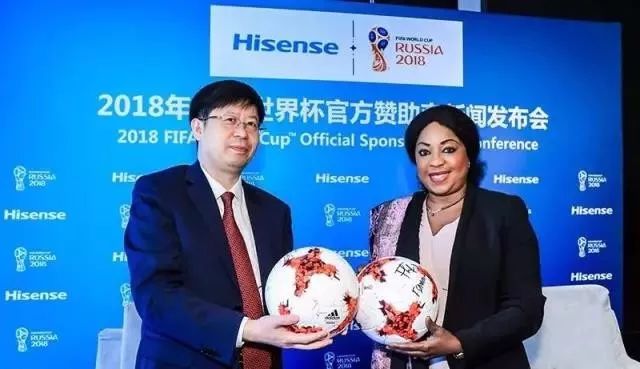 Hisense Group president Liu Hongxin and FIFA secretary-general Fatma Samba Diouf Samoura
Hisense is the first Chinese brand to sponsor two major world sporting events. It is also the first Chinese electronics brand to sponsor the World Cup in the competition's 100+ year history.
On May 31st, Chinese mobile phone brand VIVO signed a 6-year sponsorship deal with the FIFA World Cup, and will sponsor the 2018 competition in Russia, as well as the 2021 Confederations Cup and 2022 World Cup in Qatar.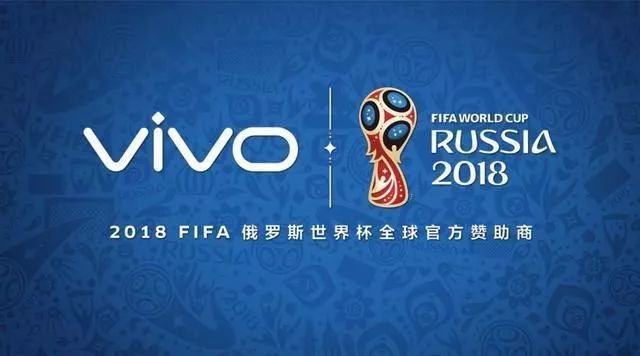 Through sponsoring FIFA, VIVO hopes to expose its brand to a wider audience, and boost its market overseas as well. Signing this deal certainly represents a significant step towards doing so.
On July 28th, at a product unveiling ceremony, Konka Group, a Chinese electronics and telecommunications manufacturer, announced a commercial agreement with La Liga, the top division of Spanish soccer.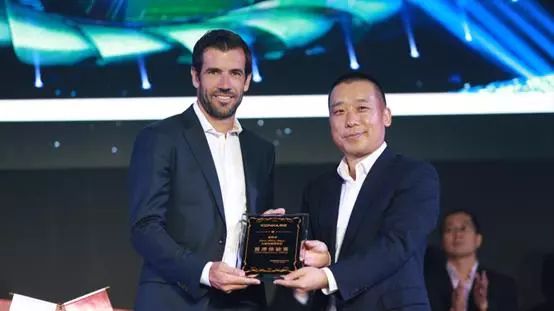 La Liga ambassador David Albelda and Konka media president Chang Dong
The signing of Konka as a China regional sponsor for La Liga represents a way for the league to reach younger consumers, its target demographic. Konka also hopes to reach younger consumers as well, which signing this deal with La Liga will most definitely help them do quite effectively.
Tencent announced a major digital partnership with the National Football League (NFL) on August 21st, as starting from the 2017-18 season, Tencent would become the NFL's sole live digital streaming media partner in China.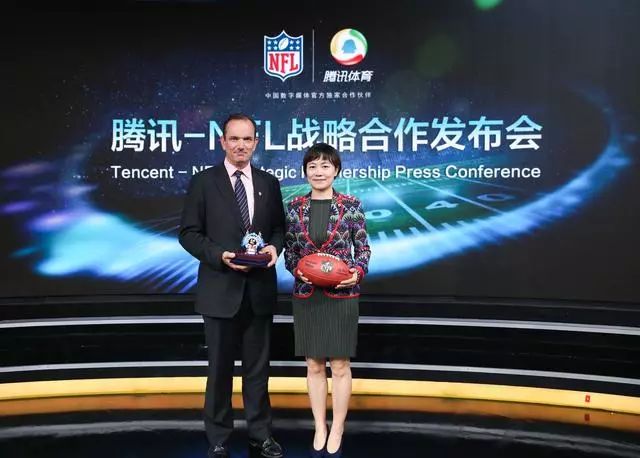 COO of NFL International Peter Griffiths and Tencent vice president Chen Juhong
This represents the first time that the world's most valuable sports league signed an exclusive media partnership deal in China. Tencent has also previously signed five-year exclusive streaming deals with the NBA and NHL to broadcast those leagues' games in Mainland China.
The Australian Open signed a deal with major Chinese drinking water brand Ganten on October 16th, making Ganten one of the Australian Open's worldwide sponsors.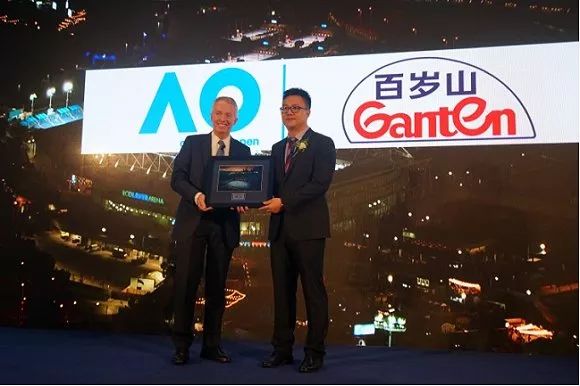 Tennis Australia CEO Craig Tiley and Chen Mengjia
This is the Australian Open's first-ever partnership with a Chinese food/beverage distributor. As the first Chinese drinking water brand to expand globally, Ganten has now established partnerships with the Australian Open, China Open, and Shanghai Masters, among other major world-class tennis tournaments.
At the International Motor Show Germany in September, top-level German soccer club Borussia Dortmund announced a partnership with Chinese shared-bicycle company ofo. The company will launch its signature yellow bikes around Dortmund's home ground, the Signal Iduna Park.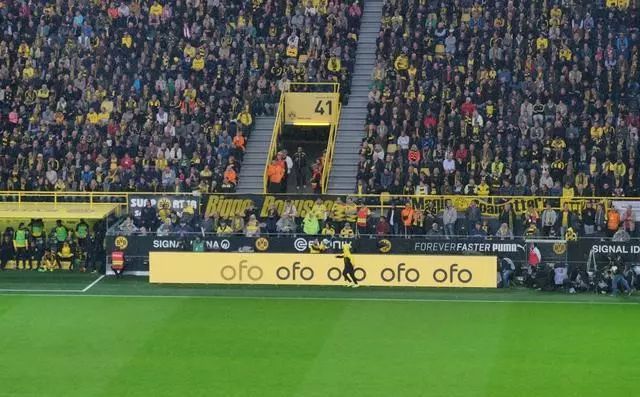 ofo signage appearing at Signal Iduna Park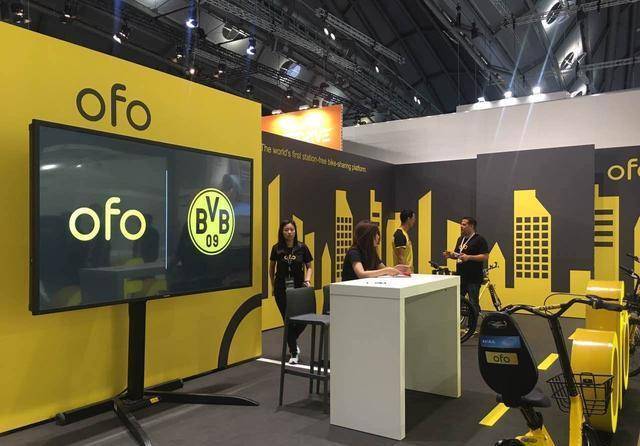 ofo and Borussia Dortmund at the International Motor Show Germany
Ofo and Dortmund's brand images and values closely align with each other, making this partnership a win-win for both brands. Ofo will also take the opportunity to enter the German market, and will soon launch in multiple other cities around Germany.
Super Penguin Celebrity Game
Last year's Super Penguin Basketball Celebrity Game was intense, and this year's game was no different, as viewers from all over China tuned in to watch their favorite celebrities and even foreign players battle it out on the court. The game also represented as howcase for all sorts of brands, and was marketed on many different channels, a departure from the way that sports games are typically marketed in China.
Ray Allen and Paul Pierce
Live at the Super Penguin Basketball Celebrity Game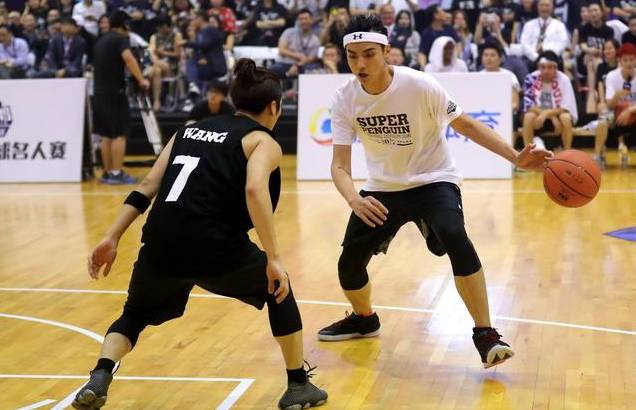 3-on-3 at the Celebrity Game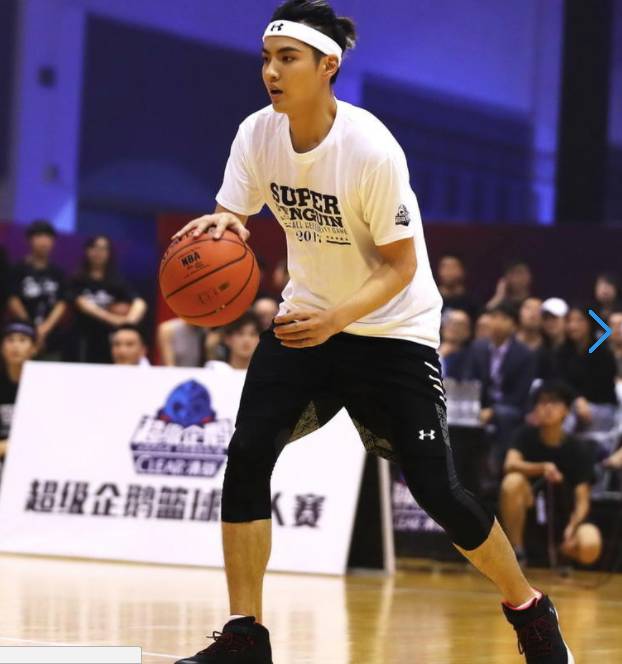 Kris Wu
Tmall's Singles Day Festival
At the 2017 Tmall Singles Day Festival, celebrities such as Kris Wu, Chris Lee, and Zhang Ziyi, as well as tennis star Maria Sharapova, soccer great Luis Figo, sprinter Su Bingtian all made appearances. The event focused on entertainment and sports, combined online and offline platforms, and broke new ground on marketing strategies, and exceeded the sales expectations of products in many different areas.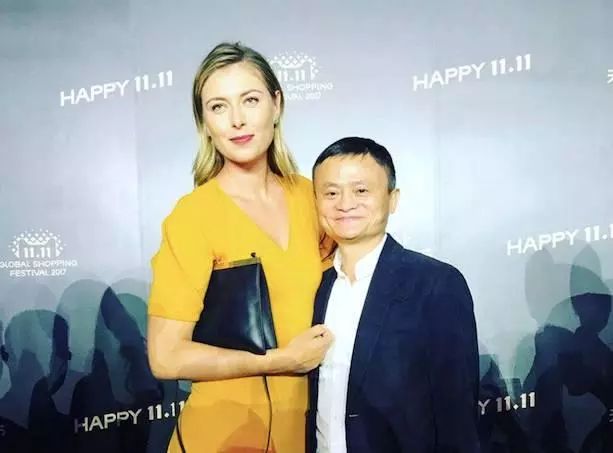 Maria Sharapova and Jack Ma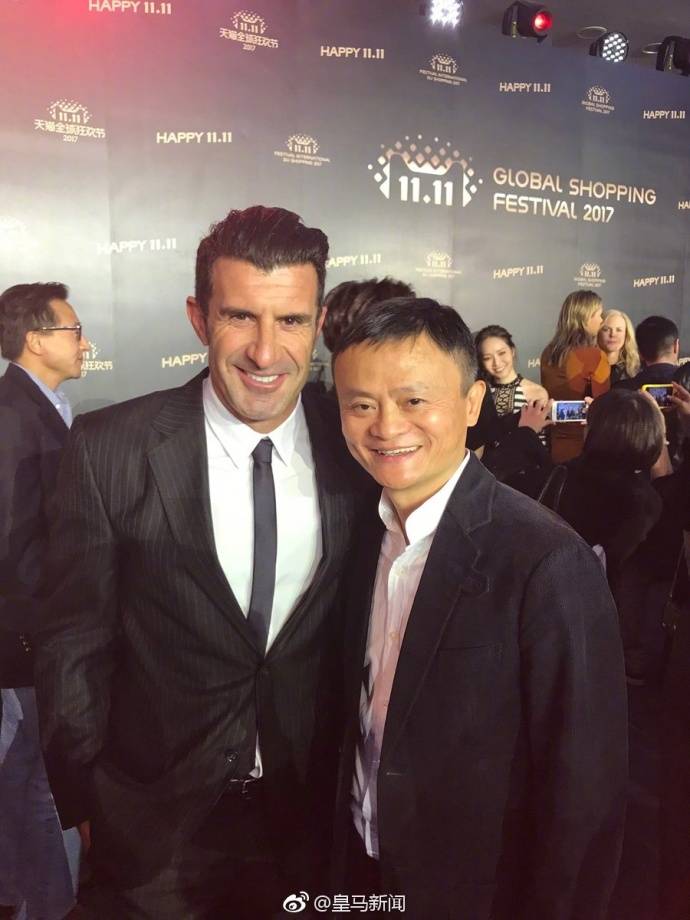 Luis Figo and Jack Ma
It's not hard to see that in the past year, the sporting industry in China has grown by leaps and bounds, led by groundbreaking partnerships between major Chinese brands and prominent worldwide sporting events. As the World Cup and other major sporting events of 2018 near, it is becoming apparent that the year 2018 will bring an even higher level of entertainment and exciting events in the world of sports. Stay tuned next week for our look back on how certain governmental policies in China have affected the sporting landscape this past year, the rise of e-sports in China, and how technology has become synonymous with sports development.
– END –
Dragon Group Asia

DGA provides integrated marketing solutions for multinational companies in the US and China.